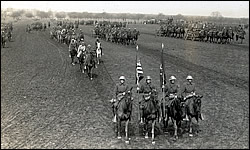 These American officers and soldiers of the field artillery brigade of the 2nd Division, whom we see in the valley of the Rhine near the great fortress of Ehrenbreitstein, are a part of the American Army of Occupation. This army, also known as the 3rd American Army, which began advancing on November 17, 1918, from the battle line occupied at the date of the armistice across the Duchy of Luxembourg toward the German frontier, was commanded by Major General Joseph T. Dickman. It consisted at first of two army corps advancing side by side; the 4th Corps, on the right, and the 3rd Corps on the left.
This formidable American army, following the retiring forces of the late enemy and ready at any moment to resume offensive operations if the Germans should pause or show fight, reached the frontier of the German Rhineland on Nov 23. There it halted until Dec. 1, when the march into Germany began. The entire front of the army reached the western bank of the Rhine on Dec. 10, and three days later the 3rd Corps crossed the river at Coblenz and occupied the bridgehead, 30 kilometers in circumference, on the eastern shore. To the north, or lower down the Rhine, the British Army of Occupation simultaneously took possession of its bridgehead opposite Cologne, and to the right, or up the river, the French Army of Occupation took a similar bridgehead at Mayence.
Thus at last was the German military colossus, disarmed and rendered helpless for further mischief, forced to await peaceably the judgment and the just penalties to be imposed upon it by the Peace Conference of the Allied and Associated Nations, assembled at Versailles.