Private David C. Halker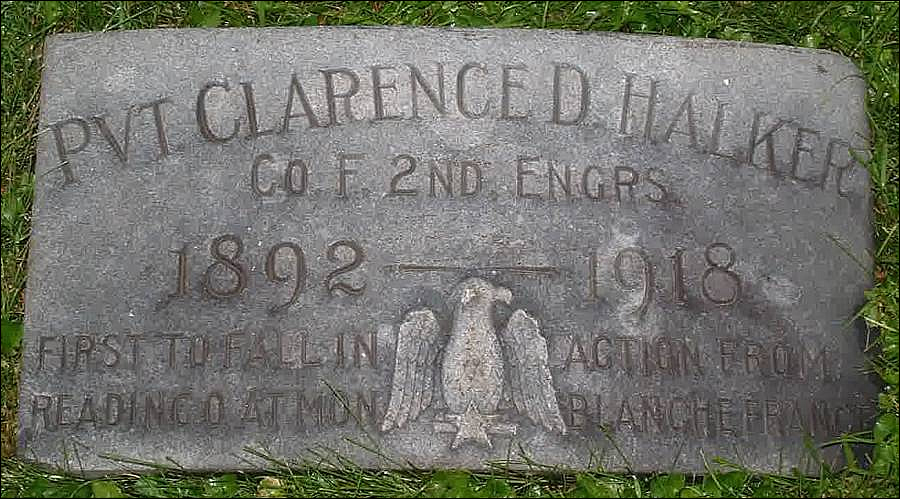 Halker, David C.; Address unknown; F; Pvt.; Prepn.; K, Chateau Thierry.
David C. Halker, also known as Clarence Halker, was from Reading, OH. He is buried at Oak Hill Cemetery in Glendale, OH. The Reading American Legion Post 69 is named the Halker-Flege Post. (Flege was the first Reading citizen killed in WWII...Halker was the first from WWI).
'Mon Blanche' was a small farm that was used as P.C. of the 6th Regiment Marines on the Paris Metz Road near Belleau Wood. (Ed.)
Photo and information submitted by grand-nephew Al Schutte.
| | |
| --- | --- |
| Name: | David C. Halker |
| Serial Number: | 301455 |
| Race: | W |
| Residence: | 1311 Market St., Reading, O. |
| Enlistment Division: | National Army |
| Enlistment Location: | Reading, O. |
| Enlistment Date: | 19 Sep 1917 |
| Birth Place: | Ottawa, O. |
| Birth Date / Age: | 25 3/12 Years |
| Assigns Comment: | Co C 330 Infantry to 16 March 1918; Co D 116 Engineers to 6 Apr 1918; Co F 2 Engineers to death. Private Aisne; Defensive Sector. American Expeditionary Forces 27 Feb 1918 to death. Killed in Action 3 July 1918. Notified Mrs. Catherine Halker, mother, 1311 Market St., Reading, O. Body returned to United States on SS Wheaton 19 Aug 1921. |
| Volume #: | 7 |