William A. Paul, whose service during World War 1 contains the name of the great French fronts where the fighting was most bitter, has gone west. He died in Twin Falls, Idaho March 25, 1943, death being connected with bronchial trouble. He had lived in Idaho County much of his life, and after discharge from the army he mined extensively in the Florence section, remaining there the year around with his wife and son, who survive him. His father was Gabriel Paul, of Grangeville, who died in 1918, while his son was overseas. There are several nieces and nephews living at Grangeville and Whitebird.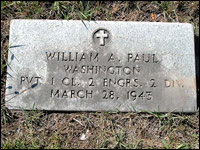 Military rites were observed at the burial service held in Twin Falls, under the direction of the American Legion, with burial in the Twin Falls cemetery.
William Abner Paul was born December 20, 1879, near Waitsburg. He enlisted with Company F, 116th Engineers in June 1916, at Lewiston, served in France and Germany, and was discharged with Company D Second Engineers. He was nearly two years in Europe, as he remained with the army of occupation until July 21, 1919. He was returned to the United States in August of that year.
Mr. Paul was decorated with the Victory medal.
The fronts on which he served were the Toulon-Tryon sector, the Alsne offensive, Marbushese, St.Mihiel, the Meuse Argonne and Belleau Wood where he was gassed, in June 1918.
Mr. Paul was married Dec.20, 1932, to Miss Corine Stiles of Twin Falls. They have one son, William Lea, aged nine. Mr. Paul was not ill long and complained only occasionally. Since Christmas he had not been quite as well as usual.
He was a member of Stradley chapter, Disabled American Veterans, at Twin Falls, of the Veterans of Foreign Wars, and of the American Legion. In Grangeville he was affiliated with the Knights of Pythias Lodge.